Newspaper Department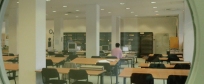 Delivery Times
The following fixed times apply for the submission of loan requests for microforms (films and microfiche) and unbound newspapers from our stacks:
Mo. - Fr. : 09.00*) / 10.00 / 11.00 / 12.00 / 13.00 / 14.00 / 15.00 / 16.00 Uhr
*) Only the delivery of requests placed on the previous day
The requested items are made available for use in the reading room approx. 10 minutes after the times listed above.
Requests for bound newspaper volumes are forwarded to the stacks at the following times:
Mo. - Fr.: 10.00 Uhr (until further notice no deliveries will be made at 2.00 pm)
The requested volumes are made available for use in the reading room approx. 20 to 30 minutes after the times listed above.
Note to first time users of the Newspaper Department:
We can only offer limited services during our extended opening hours on Tuesdays and Thursdays from 17.00 – 19.00. Unfortunately, we cannot deliver newspapers (microfilms, bound or unbound) or assist you with specialist information on newspapers during this time. Additionally, the staff will not be available for briefings on the use of microfilms readers, reader-printers or scanners.
If you are visiting the Newspaper Department for the first time, please use the following service hours to receive specialist help with your enquiries and assistance with the microfilm devices. Mo. - Fr., 09:00 - 17:00


Request items online
The holdings of the Newspaper Department are fully documented in the online catalogue of the Staatsbibliothek zu Berlin (StaBiKat). Most items can be requested directly from the StaBiKat. Please note the following information:
All original paper editions of newspapers that have been reproduced on microfilm cannot be requested online. You may order the microfilm in the StaBiKat.
Original paper editions of newspapers that are not on microfilm can only be ordered with a "Freitextbestellung" (free text order) in the StaBiKat
To order microfilms belonging to the Freie Universität Berlin, which are held in the Staatsbibliothek as a permanent loan, please use the "Freitextbestellung" in the StaBiKat. For technical reasons these items cannot be ordered directly in the StaBiKat.
There continue to be holdings from other institutions which have not been fully incorporated. These items can only be requested in person, by phone or by e-mail. (see below)

Die in der Zeitungsabteilung bestellten Materialien werden nicht auf Ihrem Bibliothekskonto verbucht, aber bei einer Online-Bestellung erhalten Sie in Ihrem Bibliothekskonto eine Information über den Status Ihrer jeweiligen Bestellung. Bitte überprüfen Sie daher in Ihrem Bibliothekskonto, ob die von Ihnen online bestellten Materialien wirklich bereitgestellt wurden, oder ob ggf. eine Negativ-Mitteilung vorliegt.
Items ordered in the Newspaper Department's reading room will not be posted to your library account. However, if you make a request online you will receive information on the status of your order in your library account. Please check your library account to verify if your requested item has been delivered or if there is any other information concerning your request.
Pre-Order
You may pre-order a maximum of 3 titles/items by E-Mail or by phone (Tel.: 030-266-436370). We will need the following information from you:
Your name and library card number
Title, month and year of the desired newspaper (max. 6 bound volumes or max. 12 microfilms)
If the maximum quantity is exceeded, we will only provide the first 6 volumes or 12 microfilms - you may re-order these titles on-site in the reading room.
Date and time of your arrival at the Newspaper Department's reading room (if known)
Pre-orders are processed from Monday to Friday within 24 hours of the request (on weekends from Saturday to Monday) and are confirmed by e-mail. We kindly ask to refrain from short-term pre-orders (e.g. with a lead time of 1 hour) since we cannot guarantee them. In such cases, please place your orders on site in the reading room.
Inter-library loan
What can be ordered via inter-library loan?
You can order a copy of individual articles. You will be required to provide very exact bibliographic information – at a minimum the title of the newspaper, the publication date (alternatively the issue number) and the title or author of the article. Other bibliographic information, such as page references or information on the exact edition or issue are helpful and should also be specified when ordering (if known).

As part of the inter-library loan service, only paper copies (no scans !!) of individual articles or pages can be created and sent. It is not possible to order copies of complete editions. You may also order copies of essays from volumes in the reference collection of the Newspaper Department's reading room (Signature: ZLS….) [via the inter-library loan service].

If you do not have the exact information for your request, as specified above, you may order microfilms for self-examination. Within Germany, a maximum of 12 microfilms can be loaned for a period of 14 days. For international loans, a maximum of 6 microfilms can be loaned for a period of 14 days. Please check with your local library whether the appropriate devices for the reading, printing or scanning of microfilms are available before your submitting your inter-library loan request.


With items cannot be ordered with the inter-library loan service?
The following materials/items are excluded from the inter-library loan service:
• Original volumes and individual paper editions,
• volumes from the reference library,
• microfilms whose signatures start with "Fremdsignatur M" and
• Microfiches (MF).
How can I order items from the Newspaper Department with the inter-library loan service?

Please contact your local library – this library must be connected to other libraries in the national/international inter-library lending system in order to place an inter-library loan order. There you will have to pay the obligatory fee for inter-library loans.
For further information (for example, how to initiate an inter-library loan order), please contact the Inter-Library Loan Department of the Staatsbibliothek zu Berlin.


Reproductions and Digitisation Services
As a preservation measure, original print edition newspapers may not be copied. However, it is allowed to take photographs, as long as they are taken without flash and the use of a tripod. You may place an order with the Digitisation Centre of the Staatsbibliothek for scans and microfilms of original print edition newspapers. For pricing, please see the applicable price list. The orders will be invoiced by post.

You may scan individual pages of microfilms and print them or save them on a USB-stick. To do so you are required to reserve the appropriate device (MR scanner or MR reader printer). Please not that you may only reserve the device for a maximum of 2 hours per day – if you fail to appear for you reservation your device may be re-assigned after 15 minutes.

The fee for enlargements in A4 and A3 is 0.30 € per copy (only 10 cent and 1 euro coins accepted). The library does not have a restriction on the quantity of scans made from microfilms. Please bring your own USB stick.
For the time being, we cannot offer digitization of complete historical newspapers on microfilm. Those interested can contact the Newspaper Department via email for further information.